Surfing
for updates:
Beginner surfboards now from euro 189 incl. fins & leash!!! Check our surfboard offers here...
Golfsurflessen / Surflessons / Wellenreiten
Wij geven les volgens het "ABC lessonplan" van de British Surfing Association (BSA). Op deze wijze leer je veilig surfen gecombineerd met plezier, snel resultaat en leg je een uitstekende basis voor de verdere ontwikkeling van je surfvaardigheden.
Onze leraren zijn uiteraard gecertificeerd en het lesmateriaal is speciaal geschikt voor de beginnende surfer. Het voldoet aan de strenge eisen zoals gesteld door de BSA en ISA. Wij gebruiken softboards in 3 verschilende maten zodat zowel de grote als kleine surfers in onze lessen goed vooruit kunnen. Door de extra warme pakken en schoentjes die wij gebruiken zal je het bovendien niet koud hebben!
De surflessen zijn geschikt voor jong en oud. De enige vereisten zijn een zwemdiploma en enthousiasme.
Surfles Prijzen:
Losse les 2 uur

euro 37,50

3 lessen

euro 97,50

5 lessen

euro 150,00

3 lessen + priveles

Groepsles golfsurfen 2 uur minimaal 6 personen, prijs per persoon

euro 150,00

euro 30,00
Prive les 1,5 uur 1 persoon euro 70
Prive les 1,5 uur met 2 personen euro 120
Stand Up Paddle 2 uur huur incl. 1/2 uur instructie euro 45
3 Surflessen:
1e les: ¨Riding the waves¨
In deze les brengen we je eerst in een kort theoretisch gedeelte alles bij wat je moet weten over de zee, de golven en het materiaal wat je gebruikt. Hierna leer je stapsgewijs je hoe je jezelf en je board kan laten oppikken door de golf, hoe je het board tijdens het peddelen kan stoppen en hoe je op het board kan gaan staan. In deze les rijd je je eerste echte golven! Wil je meer? Ga dan verder met de volgende lessen:
2e les: ¨In control¨
In de tweede les leer je volledig zelfstandig je golven te kiezen en surfen: je leert hoe je zelf de juiste surfgolven kan uitkiezen en hoe je je board op het juiste moment op de juiste plaats krijgt. Je leert tijdens deze les ook hoe je het board kan draaien en hoe je over of onder de golven door kan.
3e les: ¨King of the Waves!¨
Surfers gaan de ene keer op de golf linksaf, de andere keer rechtsaf. Ook kunnen ze versnellen of vertragen zodat het net lijkt of zij een mooiere of langere golf hebben gekozen dan jij. Hoe doen ze dat? Dat is wat je leert in deze derde les.
Je kunt de volledige SurfKaravaanroute volgen verspreidt over meerdere dagen of in een weekeinde.
Kids:*

losse les

3 strippen

euro 23,50

euro 64,50

5 strippen

euro 95

10 strippen

euro 160

Verjaardagspartijtje (min 6 pers.) incl. een leuke surfverrassing!

euro 17,50

per persoon

Familie les (min 4 pers.) 1,5 uur

per persoon

euro 25
*Strippenkaarten zijn geldig in hetzelfde seizoen dat ze zijn aangeschaft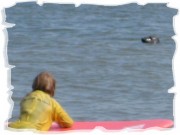 nieuwsgierige zeehond tijdens de surfles!
Lestijden:
Adults:
13.00 - 15.00
18.30 - 20.30
Kids:
16.00 - 17.30
Zorg ervoor 15 minuten voor de les aanwezig te zijn.
Alles lessen zijn inclusief wetsuit en board.

SUPsurflessen / SUPsurflessons
Beginner supboards now from euro 499! Check our SUP(er) offers here!
Stand Up Paddle

Stand Up Paddle surfing

–SUP'pen- is een nieuwe sport in Nederland maar bestaat in Hawaii al lange tijd. Het is ontstaan vanuit het golfsurfen. Het voordeel is dat je door gebruik van de peddel ook op vlakker water van het surfen kan genieten.

Ouddorp is een perfecte plek om de beginselen van Stand Up Paddle surfen te leren. Je hebt alle ruimte in de zee zodat het bijzonder veilig is. Daarnaast is de kans groot dat je een zeehond tegenkomt.

Voor je eerste ervaringen zijn vooral kleine golfjes of zelfs een platte zee het best. Op deze manier kan je goed oefenen hoe je je balans moet bewaren en hoe je moet peddelen.

Introductie les

SUP introductie les

Deze half uur durende les is een Stand Up Paddle introductie. Je leert de basis techniek om veilig en met vertrouwen met een SUP te surfen. Onderwerpen zijn:

Hoe je balans te bewaren.

Hoe je voeten neer te zetten.

Hoe de peddel vast te houden.

Veiligheid voor jezelf en anderen.

Na deze introductieles kan je nog 1,5 uur zelfstandig aan de slag om wat je geleerd hebt te perfectioneren en om op zoek te gaan naar mooie golven en de zeehondjes.

Stand Up Paddle surfing is redelijk makkelijk te leren. Voor je veiligheid is het echter wel belangrijk om een instructieles te volgen. Daarom bieden we aan nieuwe SUP'ers het volgende aan: 2 uur SUP verhuur inclusief een half uur instructie voor slechts 40 euro.

Enkele tips voor de beginner.....

Dragen van het board naar de zee

Je kan het SUP board het beste op zijn kop met de vinnen naar voren in de lengte boven je hoofd / schouders dragen. Leg de peddel er dwars overheen.

Houding

Het beste kan je op je knieen beginnen met je gezicht naar de neus van het SUP board. Je peddel houd je dwars op het board. Vanuit deze houding ga je via het hurken staan. In tegenstelling tot het golfsurfen sta je, wanneer je niet een golf aan het rijden bent, dwars op je board. Voor je balans is het belangrijk je voeten bij de zijkanten van het board te zetten.

Peddelen

Je houdt je peddel met twee handen vast, 1 hand aan de bovenkant van de peddel en de andere hand in het midden. Steek de peddel voor je -niet te diep- in het water. Niet te dicht langs het SUB board, want dan beschadig je het, maar ook niet te veraf. Haal de peddel weer uit het water als deze net achter je hielen is. Bij het "aanzetten" van de peddelslag ga je iets door je knieën voor de beste balans en krachtoverbrenging.

Een golf pakken

Je gebruikt je peddel afhankelijk van het soort golf op verschillende manieren. Over het algemeen wordt er geadviseerd om over links te peddelen voor een rechtse golf en om over rechts te peddelen voor een linkse golf. Belangrijk is dat de take off nog steeds met je tenen naar de neus van het SUP board plaats vindt. Je verplaatst pas je voeten op de lengte-as van het SUP-board wanneer je in de golf bent.

Veiligheid

Houd altijd je eigen en andermans veiligheid in de gaten. Zorg ervoor dat als er sterke wind staat je altijd genoeg energie hebt om terug te peddellen en houd weersveranderingen in de gaten
25 Years Windsurfing Renesse Sales!!! read more!
for updates follow us on facebook: