Kitesurfing
a

a
Wir sprechen und geben unterricht auf

deutsch
We speak and give lessons in

english
Uiteraard spreken en geven we ook les in

de nederlandse taal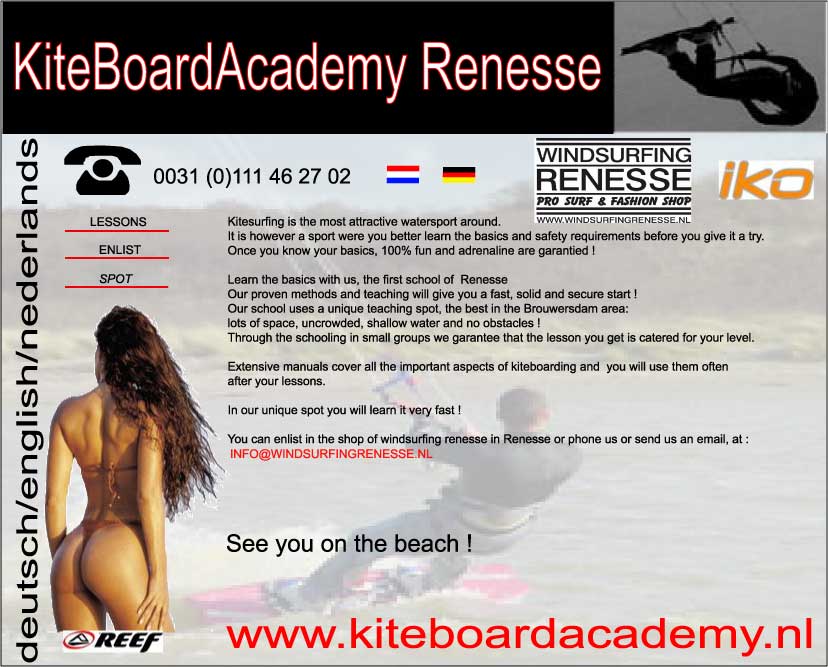 Kiteboarding is establishing a name as a spectacular watersport.
Hook up and you will get adicted but take a good beginner training first. KITESURFSCHOOL RENESSE, PROFESSIONAL CERTIFICATED KITEBOARD SCHOOL.
Beginners course (Level 1) Euro 125 (4-5 hours).
-------------------------------------------------------------------------------------------------------------------------------------------------------------------------------
Learning kiteboarding is all about choosing a good school, that wil teach you all the basiscs and a safe spot to learn.
After that you need some good advice and material to enjoy the sport in it's full extent.
Windsurfing Renesse can provide you with all this, serious fast, safe and fun training and a good advise and deal on your kitegear as well.
Why many people choose us to start to learn:
-more then 10 years of experience
-Only certified instructors from the

IKO, the KNWV and the VDWS

.
-Very safe spot with no crowds or obstacles and shallow water
-2 manuals accompany the lessons, so you can read back what you learned, at home.
-They get recommended by ex customers of ours.
The beginnerlesson (corresponding with IKO level1 ) takes you through the basiscs of kiteboarding:
Safety, theory of kiteboarding, material and how to build it up, waterstarting a kite and bodydragging
The intermediate lesson (corresponding with IKO level 2 ) takes you through the next phase:
learning to waterstart yourself and sailing on a board.
After that we look at what you need to learn and give you if needed a Custom made lesson that focusses solely on what you need to learn.
In 10 years of developing, our teaching system has proven to be the best way to do it, you need some time to get used to the big force of the kites, you need to get in control, that's were the beginnerlesson fits in. For the intermediate lesson you need to be relaxed with the kite and steer it effectively. Some peolple need some more training before they can go out and grab a kite and have fun and we make a custom made lesson for them, that will take away ther weakpoints.
Our main objective is to teach you kiteboarding in a safe and relaxed way and to get you enjoying this sport as quickly as possible.
Don't hesitate, if you're into watersports you will love this one, contact us and book your first lesson and get kiteboarding this summer.
If you have any questions call or mail us, we can provide you with any info on kiteboarding or lodging and how to get there.
Windsurfing Renesse Kitesurfschool Renesse.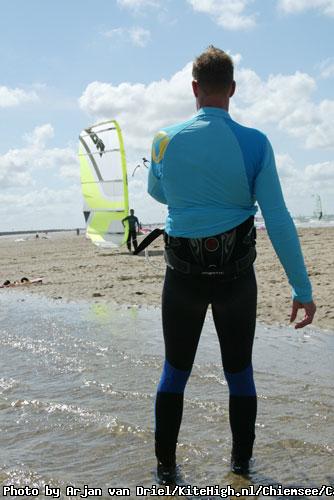 De cursussen zijn verdeeld over drie stappen.
Dit zijn de cursussen en prijzen.
CURSUS
level 1
Level 2
level 3
INHOUD
Veiligheid
Materiaal opbouw
Windrichting bepalen en Windraam
Veiligheidssystemen rond de kite
Rond de top van het windvenster sturen
langs de rand van het windvenster sturen
Gebruik van het veiligheidssyteem oefenen
Starten en landen van de kite met hulp
Sturen in de powerzone
Ontdraaien van de lijnen
preflight check uitvoeren
zelfstandig starten en landen van een kite
sturen in de powerzone
Herstarten van de kite uit het water
Bodydraggen zonder trapeze
Ontdraaien van de lijnen in het water
Ingehaakt in de trapeze sturen van de kite
Gebruik van het quick release systeem op de kite
Ingehaakt sturen met een hand
Bodydraggen in de gewenste richting
Met één hand bodydraggen in de starthouding
In de startpositie komen met het board
Druk opbouwen voor de start
Waterstart
Eerste meters varen en board kanten.
Kennis watersportregelementen
voorrangsregels
Constante druk tijdens varen
Reageren op extra kracht in de kite
Oploeven en afvallen
Board blijven kanten
Juiste maat kite bepalen
gebruik depower
Aan de wind varen
Koers houden
Upwind bodydraggen
Gijpen
Springen
PRIJS
125 EURO incl. Manual
98 EURO
98 Euro
KENNIS NIVEAU
Iemand met level 1
kan zelfstandig de locatie inschatten
en veilig omgaan met een kite
Iemand met level 2
kan met de kracht van de vlieger omgaan
, waterstarten en een stuk varen
Iemand met level 3
kan powered up varen, opkruisen en gijpen.
Tevens maakt men de eerste sprongetjes
Alle lessen zijn inclusief alle benodigde kitesurfmaterialen, en instructie.


For info or bookings: info(at)windsurfingrenesse.nl or call +31 (0)111 - 46 27 02
Sales @ Windsurfing Renesse!!!